KRAH MEXICO PIPE CHARACTERISTICS
Standards and recommendations
ISO 21138-2
ISO 21138-3
ASTM F 894-13
AWWA M55
AS/NZS 2566.1 (1998)
ASTM F 894-13
ASTM D 2412
ISO 9969
High Density polyethylene (PE80 or PE100), Polypropylene (On request).
Our pipe is manufactured from 18" up to 120" in inside diameter. The nominal diameter coincides with its inner diameter. In case of a more robust profile, the inner diameter will stay the same, regardless of any need, allowing to maintain hydraulic capabilities.
The standard length of our pipes is 6 meters (19.7 ft) for any diameter and ringstiffness. Nonetheless, any length of pipe can be produced between the length of 1.0 up to 6 meters. In case of needing pipes longer than 6 meters, we can pre-join pipe by electrofusion (which will help run job site installations faster) to deliver pipe with a length up to 12 meters.
Depending on the application, the profile of the pipes can be manufactures with solid walls, up to 300 mm in thickness.
Using profile walls is possible to produce lighter and stiffer at the same time. The ring stiffness of a pipe is a function of the moment of inertia of the profile wall geometry, the elasticity modules of the resin and the mean diameter of the pipe.
Using a profile wall design, the weight can be reduced up to 60%, compared to its solid wall equivalent. We can also make different ring stiffness pipe in the same pipeline to adapt them to different loads and scenarios that can be found in the same project.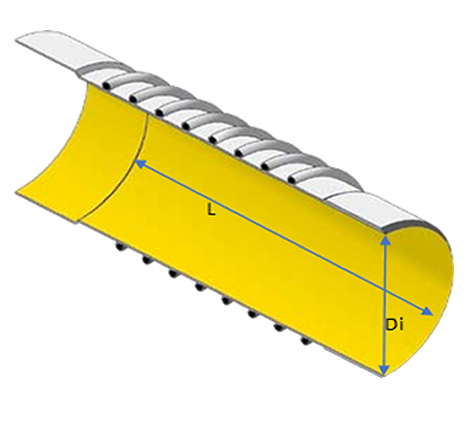 Do you need more information about our high density polyethylene pipes?